Open Day
Friday 30 November 2018
On Farm Auction
Friday 21 December 2018
Garth and Chris Shaw farm a 400 ha property at Wharetoa in South Otago.
The property carries 1700 recorded ewes
1350 flock ewes
750 ewe hoggets
40 cattle.
We started breeding Coopworth Rams in 1975. Breeding Coopworth Rams taught us how to understand and use performance recording in breeding more profitable sheep.
Today our 5 flocks (1700 ewes) are fully recorded on SIL. We use these records exclusively to aid us in breeding sheep that will produce for our clients livestock that will maximise farm profitability.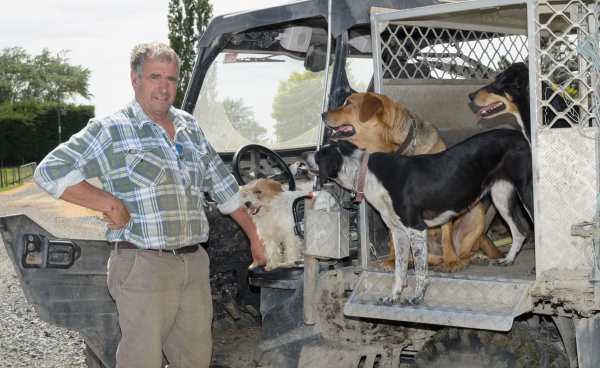 After 45 years of sheep farming the most enjoyable part of breeding rams is working with the sheep every day. Having repeat ram buyers and listening to their comments on how our rams have made their businesses more enjoyable and profitable is also very rewarding. All our rams sold must be structurally sound and we are a brusellosic accredited flock (Top 25%). Wharetoa Genetics is relatively unique in that we manage the recorded flocks as well as run a day to day commercial operation.
On sheep farms today the main factors governing farm profitability are
NLW – Number of lambs weaned
Growth weight – the quicker you can get your lambs killed the better
High Growth Rate vs Low Growth Rate
This table highlights the advantages of High GR vs Low GR of $185,000 over 3000 lambs killed.
High Growth Rate vs Low Growth Rate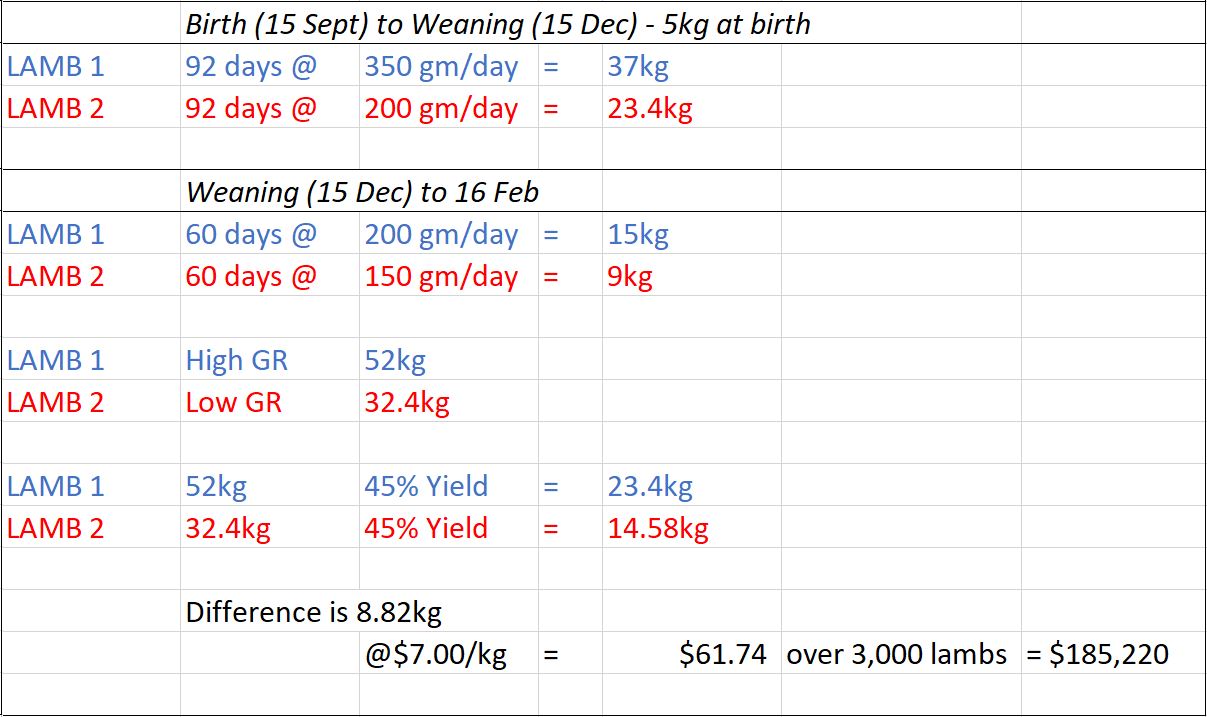 As mentioned earlier one of the main factors governing profitability is Growth Rate. The genetic make up of your commercial ewes contributes 50% of the genes of your lambs. It makes complete sense then that significant pressure should be placed on breeding ewes with high genetic merit for growth rate and meat yield. Some will say that this will increase the mature size of your ewes. It will BUT in the Abacus Bio Report enclosed it states that the increase in ewe body weight is easily compensated for in increased production. Another observation I have made over the years is that there is a high correlation between Meat Yield (carcase => salable meat) and Carcase Yield (live weight => dead weight). High meat yielding animals have a conformation (shape) that is highly beneficial in commercial ewes. These sheep are more rounded and are more able to withstand the climatic variations that we have to put up with these days.